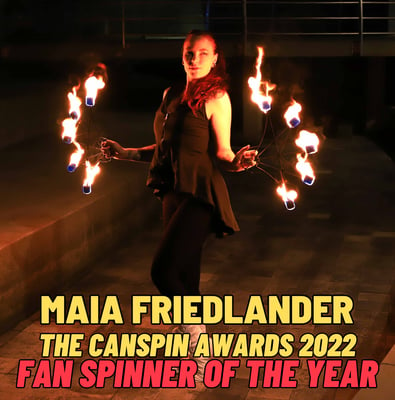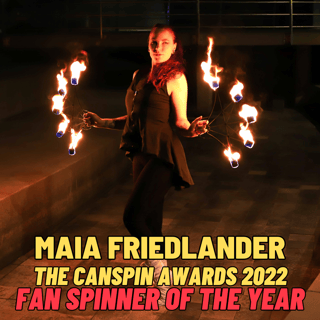 Livewire is a multi-prop, LED and Fire performer based out of Toronto, Canada. Currently performing primarily in Toronto with a mix Fans and Fire props live but has been lucky enough to have had prior opportunities internationally performing in Cuba, or teaching in Texas. She came to performance from a background in arts and prop design, but found her passion in flow arts while recovering from an injury and looking for creative ways to engage in healing her body. When not practicing her next choreography, she spends her time designing and building new custom fiber optic costumes for all her acts.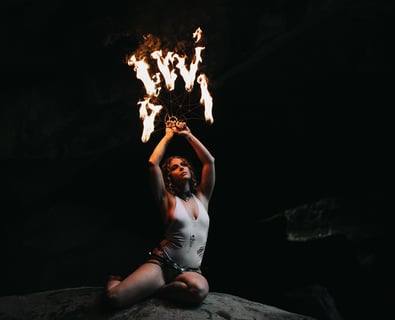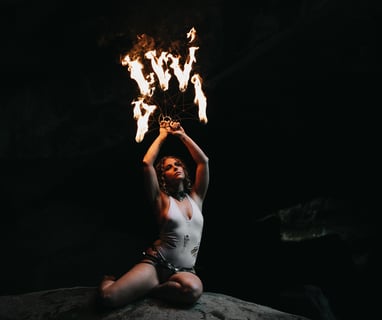 Vancouver Island fire performer Denyse Dansereau, founder of Ignisia Circus, creates exceptional group fire shows with her team of well-trained fire dancers. Channeling through the lenses of ballet, jazz, tribal fusion and flow-arts, Denyse interprets the music around her into enchanting freestyle performances and complex choreography. She is a dancer, insured fire and circus performer, choreographer and fan enthusiast Denyse currently resides in beautiful Cumberland, British Columbia with her hard working team of Vancouver Island fire performers.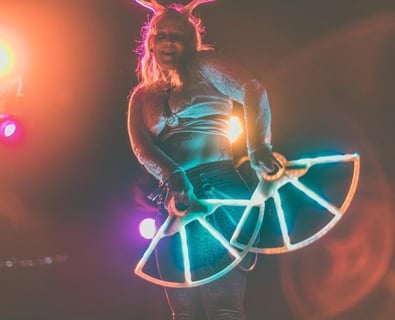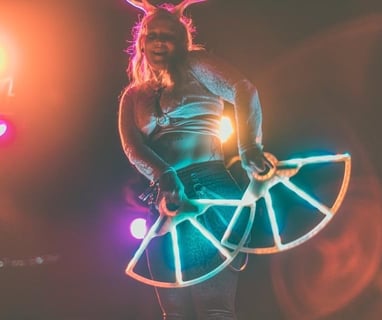 Dagger is a multi-prop circus artist performing with The Salty Circus crew in Saskatoon Saskatchewan! Performing with a wide range of props such as Hoops, Fans, Poi, Double staff, Dragon staff, Levitation wand and Rope Dart – and bold fire props like large umbrellas, and crowns – Dagger brings a performance that is sure to be remembered. Dagger has been attending aerial classes at Fly studios for the past year and is excited to include this in her performing career in the near future. As a designer & artist by profession – her favorite part of performing is creating incredible costumes that will make you do a double-take- Her unique and captivating Stilt characters that tower above the crowd are guaranteed to put a smile on any face. While Dagger hails from Saskatchewan originally, she started her flow art journey in Edmonton Alberta, before making her way to Ontario for a few years, and returning to her prairie home at the beginning of the pandemic. She has been fortunate to share her art at countless events and festivals across Canada and perform in the great circle for 4 years in a row at burning man, with the New Model Circus Army and Crimson Fire.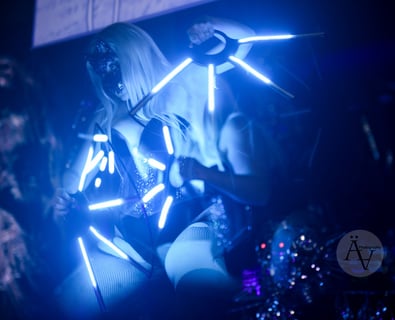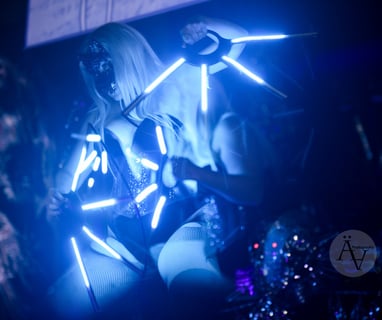 Maggie Haze is a charismatic and versatile multi-prop performer and choreographer, but fans are her first love. She has performed in theatre, film, burlesque and circus. Maggie works primarily with NorthFire Circus and Bass Witch Coven as a performer and choreographer helping to create and innovate in the flow arts field. She loves collaborating on large-scale "Theatre on Fire" productions and discovering the place where theatre and circus intersect. Maggie was recently Director of Choreography for Bass Witch Coven's 2022 Fire Conclave Performance at Burning Man featuring 15+ female identifying fire spinners and can't wait to see what 2023 has in store.