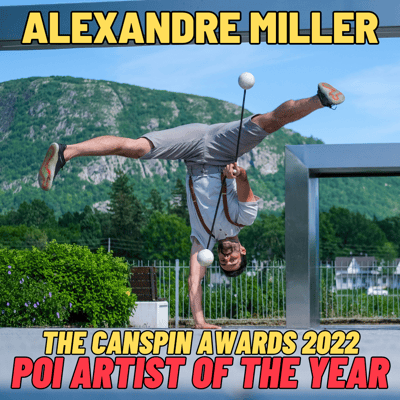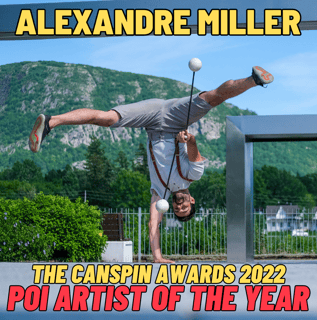 In short : A physical education teacher and a circus instructor with a martial art background. More than 20 years of studies on the body movements and objects manipulation. Alexandre Miller alias Monsieur Poï is here to share and teach how to move freely with objects like Poï and with our body. More informations Mr. Poi alias Alexandre Miller graduated in physical education from UQAM and as a circus instructor at the National Circus School of Montreal. His poi practice began at 24 at UQAM in a circus teaching course and he decided to deepen this discipline. Recently, he trained with Nick Woolsey for weeklong retreats in British Columbia and Costa Rica. Besides his training in poi, he is an active martial artist for 20 years and a training specialist. It is therefore after more than a thousand hours of experimentation, exchanges with other artists and passion that Mr. Poi now shares his experience.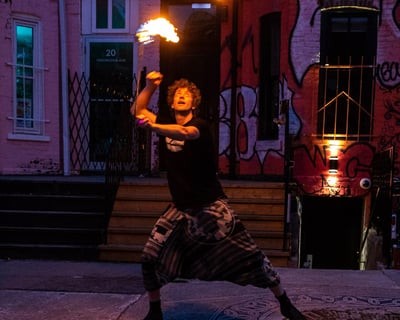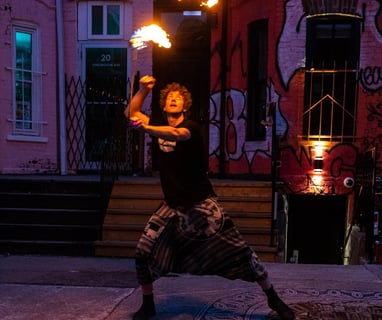 Alex has been spinning poi since 2017 and his passion for flow arts is focused on community fire performances, teaching, and community building. Over the past five years, Alex has quickly become a dedicated member of Toronto's fire spinning scene through community performances such as Church St. Halloween, Kensington Market Pedestrian Sunday, the Black Out Friday Parade, and the Kensington Market Winter Solstice Parade. In 2019 and 2022, Alex has also played an integral role with the New Model Circus Assembly, one of Toronto's Burning Man fire conclaves. He performed with NMCA at Burning Man in 2022. Although professional performing is not currently something he is interested in pursuing, Alex hopes to inspire and teach as many people as possible through his performances and workshops and hopes to continue growing the flow arts scene in Toronto and Canada.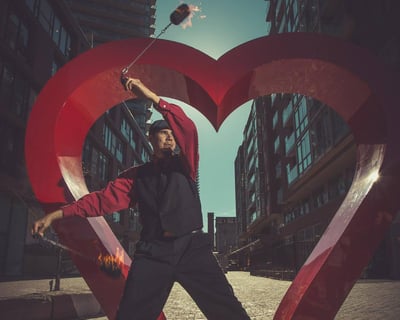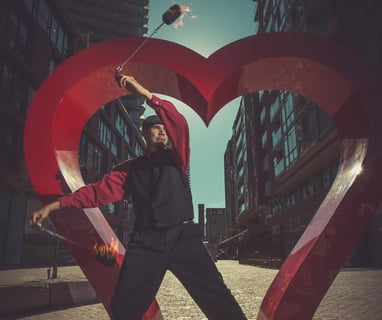 The Pyroneer is a multi-talented fire spinner currently based in Calgary, Alberta. He performs independently as The Pyroneer, and has performed with Acorn Thief, Le Cirque De La Nuit, aGoGo, Indigo Circus, Zero Gravity Circus, Red Pepper Spectacle, and many others. He was also a coach with The Circus Academy and teaches Poi independently. The Pyroneer has spent over 20 years developing his talents wielding a multitude of fire props. Specializing in Poi, he can dazzle audiences with his exceptional skill and style. The Pyroneer founded the New Model Circus Army Conclave and created Spin All The Things: The Toronto Flow Festival, and the Okanagan Flow Festival. His love for community has had him participating in events across Canada and the U.S. as an instructor, performer and leader.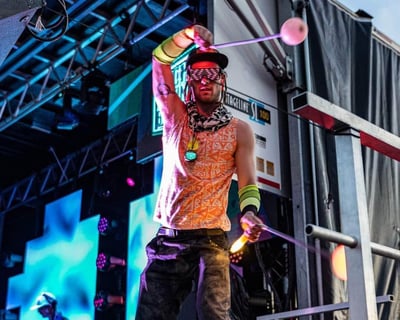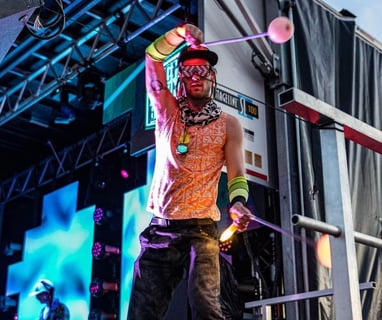 II am a multidisciplinary prop artist dedicated to exploring the depths of prop manipulation, juggling, spinning, dance, movement, flow state, and physics. Flow arts found me while traveling abroad, and I am forever grateful for the amazing souls I have connected and bonded with. It has been a life-changing, beautiful journey that has helped me grow in many ways, with such a loving, supportive community that has continuously been welcoming and helpful, teaching so many helpful skills with and without props. I enjoy working with a variety of props, and the cross-over between so many props really gets me excited. There is always something to learn within the mix of flow, and it is inspiring. Currently, I work as an entertainer and have been developing a street act in the past year, as well as producing a fire show this year, which is a lot of fun. I enjoy collaborating and working with other artists, trying new things, and being goofy. My goal for this year is to work on originality and to keep things flowing! Huge thanks to all of my mentors and flowmies for keeping it real!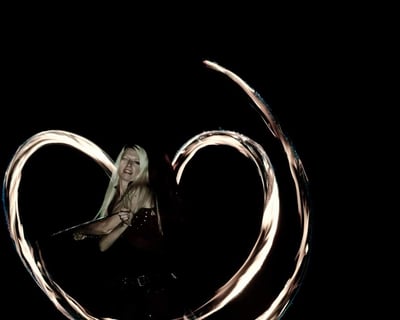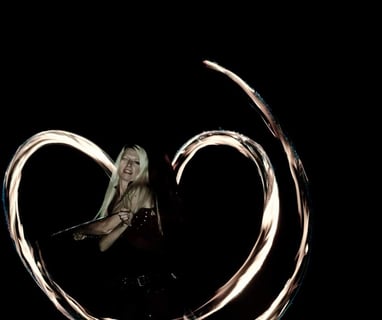 Robin Fiametta's journey with poi began while living on Maui. Seeing the beauty of fire dancers on Little Beach inspired her to learn the art of poi whilst there. Poi turned out to be her gateway prop and she quickly added double staff, double nunchucks, and fire fans to her repertoire. You never know what she's going to spin or light on fire next! Fiametta enjoys spreading the joy of poi and has taught classes regularly in Calgary and events such as Astral Harvest, HoopWest, Calgary Tam Tam's and Freezer Burn, and she furthers the flow arts for all of us as the president of the Western Canadian Circus Arts Society and Camp Carnival: Circus and Flow Arts Festival. You can catch Fiametta performing regularly with aGoGo.