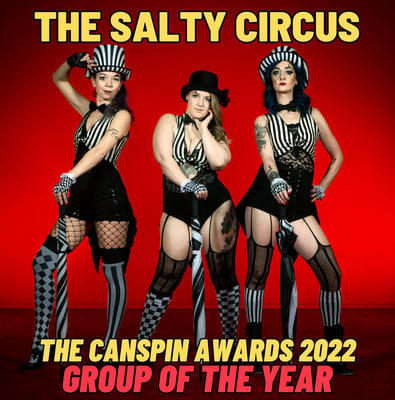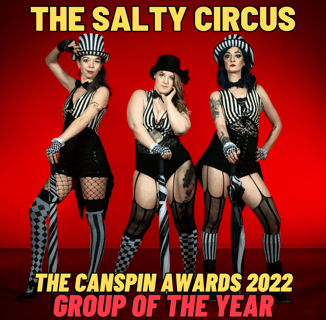 The Salty Circus is Saskatchewan's premiere Circus & Entertainment troupe. With over 30 years combined performing experience, these seasoned performers are known for creating a unique and exciting atmosphere wherever they go. Offering full fire & LED stage shows, Stilting animation and custom character creation - the Salty Circus is a show not to be missed. With fantastic shows featuring a variety of props and unforgettable costumes, The Salty Circus are an instant hit at festivals, conferences and corporate events. Featuring the talents of Canada's first and only official SpinPoi instructor Spinja, The captivating and bendy Arcana, and the fiery Dagger - They truly have a show for everyone!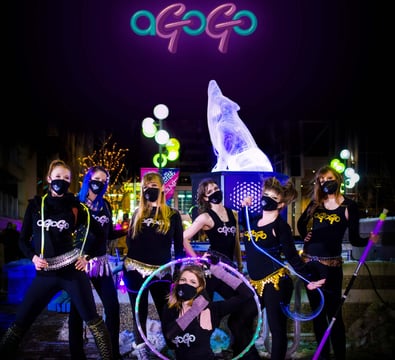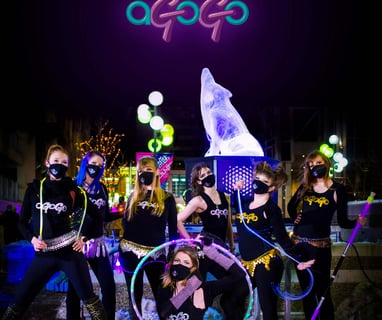 aGoGo is Calgary's weirdo dance & flow artist collective! Calling on their individual movement styles and expertise in bellydance, hip hop, fusion, contortion, poi, hoops, staff, rope dart, and fans in LED & FIRE, aGoGo artists combine individual passions and talents to co-create and entertain with their quirky looks & unique hooks! aGoGo have most recently been seen on the streets of Beakerhead and are about to light up the avenues of Chinook Blast with daily improvised performances delighting thousands of Calgarians enjoying all that downtown has to offer! You'll also recognize this crew seen performing at festivals such as their beloved Freezer Burn and Astral Harvest's past, or on party stages alongside local favourites and accomplished DJs the likes of Mat the Alien, Smalltown DJs, and SkiiTour. As a collective, they have been collaborating and learning from one another for approximately seven years. As individuals, they have been amongst their own practice for far longer. Together they make a powerful troupe with each person and their talents contributing to the whole.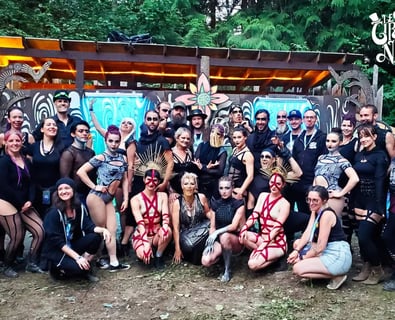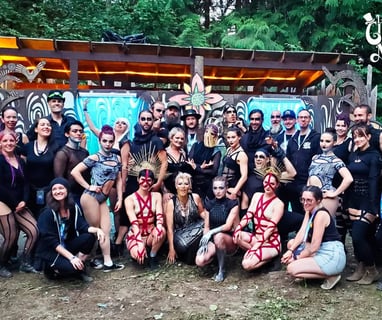 Cirque Nuit Arts Foundation (CNAF) is a non-profit organization dedicated to providing an all-embracing platform for community growth and employment to local artists working in or supporting the Circus arts. CNAF will provide continuous performance opportunities and a supportive home base for artists to grow their talents. Specializing in innovative performance productions that provide unique, exciting and immersive entertainment experiences for audiences while providing a supportive, collaborative artistic platform for emerging and established artists across Western Canada. Over the past seven years, we have produced over 25 unique Cirque Nuit performance productions and performed at numerous corporate events, fundraising events, nightlife events, conventions and festivals across Canada.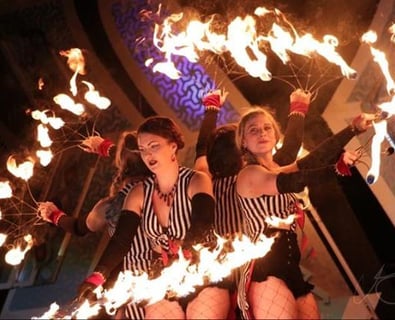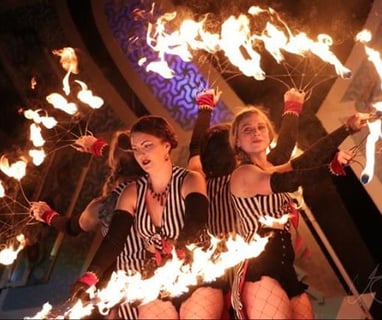 Ignisia Circus is a fire, flow & dance performance troupe founded in 2017 by Denyse Dansereau. As Artistic Director Denyse brings years of experience as a dancer, choreographer, storyteller and fire performer into each choreography. Each member of Ignisia Circus is an accomplished performer in their own right, with their own stylistic approach to performance. Every act is a unique blend of skilled technique, graceful dance, and magnetic stage presence, bringing together years of performing experience to create an unforgettable act. In addition to providing high caliber entertainment Ignisia Circus is also a flow art & dance school. Our performers all take classes and most of our classes are open to the public. We have award winning in house instruction and often host international instructors.
New Model Circus Assembly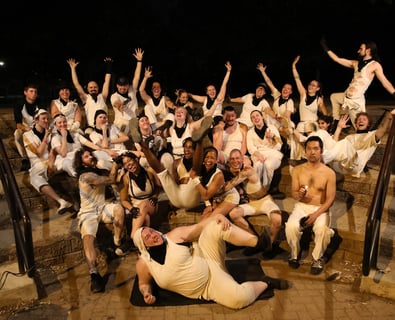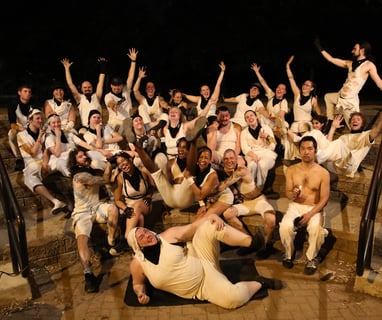 New Model Circus Assembly (formerly New Model Circus Army) is Toronto's longest running Burning Man Conclave. They have had the honour of being invited to perform every year they've auditioned to take part in The Great Circle.