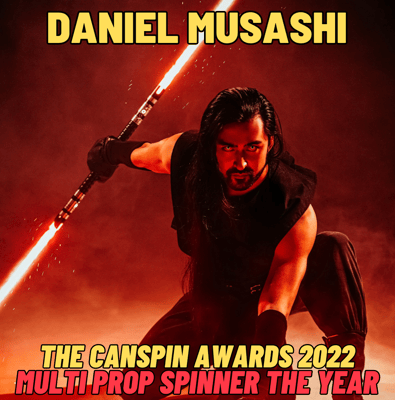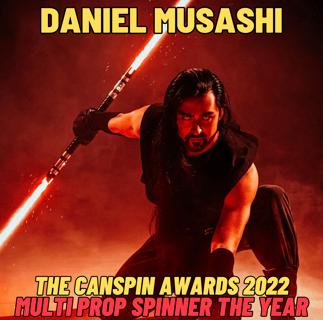 With over a decade of experience under his belt, The FloWarrior has earned a reputation as one of Canada's top fire and flow arts performers. Fusing his passion for dance, martial arts and music, he has created his own unique brand of 'martial artistry' through years of training and dedication to his craft. A world renowned innovator in a number of unique disciplines including folding fans, rice hats, lightsabers, and the Force Leash; he continues to push the limits of what is possible through movement art and object manipulation.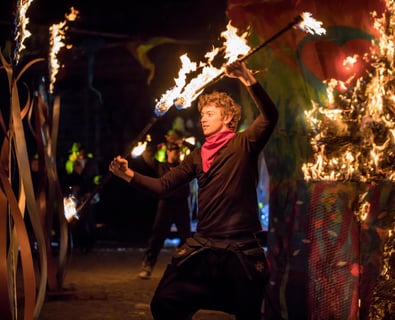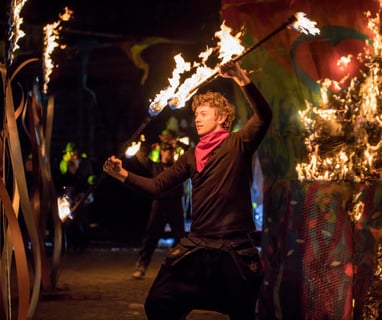 Alex has been spinning poi since 2017 and double staff since 2018. His passion for flow arts is focused on community fire performances, teaching, and community building. Alex has dabbled in almost all the "flow" props and has now focused his enthusiasm on poi, double staff, buugeng, juggling, and rope dart. Over the past five years, Alex has quickly become a dedicated member of Toronto's fire spinning scene through community performances such as Church St. Halloween, Kensington Market Pedestrian Sunday, the Black Out Friday Parade, and the Kensington Market Winter Solstice Parade. In 2019 and 2022, Alex has also played an integral role with the New Model Circus Assembly, one of Toronto's Burning Man fire conclaves. He performed with them at Burning Man in 2022. Although professional performing is not currently something he is interested in pursuing, Alex hopes to inspire and teach as many people as possible through his performances and workshops and hopes to continue growing the flow arts scene in Toronto and Canada.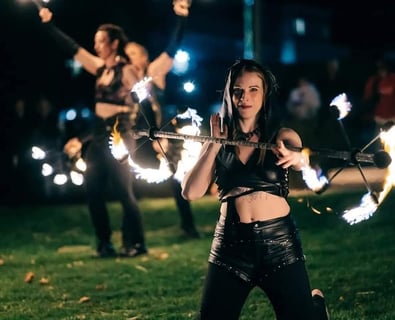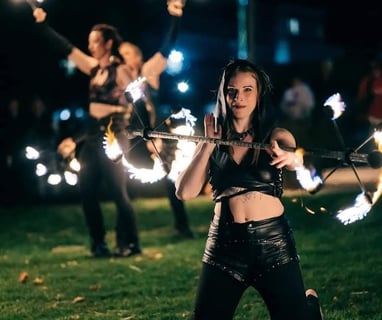 Vancouver Island fire performer Denyse Dansereau, founder of Ignisia Circus, creates exceptional group fire shows with her team of well-trained fire dancers. Channeling through the lenses of ballet, jazz, tribal fusion and flow-arts, Denyse interprets the music around her into enchanting freestyle performances and complex choreography. She is a dancer, insured fire and circus performer, choreographer and fan enthusiast Denyse currently resides in beautiful Cumberland, British Columbia with her hard working team of Vancouver Island fire performers.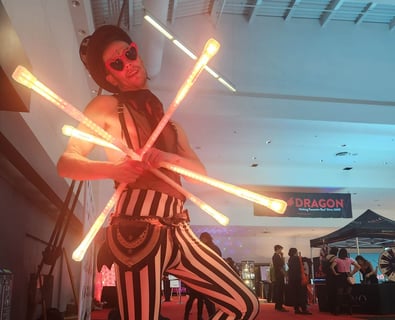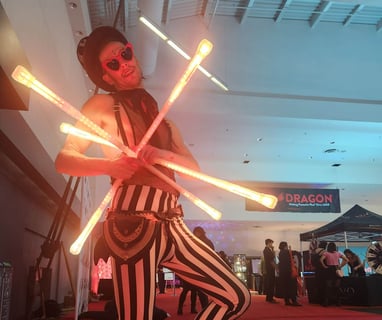 I am a multi disciplined prop artist working in the entertainment industry. I enjoy exploring the depths of prop manipulation, movement, dance, juggling, spinning, physics and community and using props as an expressive form of art. Travelling through Mexico and Central America I have been inspired by many malabares and am grateful for my journey of flow arts that has taught me many lessons, connected me with many beautiful people and inspired me to play. I enjoy working, learning and sharing, collborating with others on shows or just being goofy. Currently working on a street show, I am based out of Vancouver, and working on producing a fire show. Looking forward to another year of flowing and growing focusing on originality, thank you to everyone I have croseed paths with on this journey and to my mentors and partners!